Révoltes & Révolutions: A Conference in French and Francophone Studies
Friday, March 23, 2018 - 8:00am

to

Saturday, March 24, 2018 - 6:00pm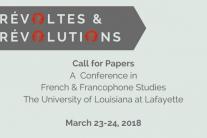 As we celebrate the 50th anniversary of May 68, this conference invites scholars not only to think about its legacy, but also to consider other revolts, revolutions, historical tipping points, and social/literary/political transformations (all centuries, all francophone regions). Possible topics include (but are not limited to):
- May 68, then and now
- Arab Spring
-(Post) Colonialism
- Literature and Politics
- La Francophonie, then and now
- Queer revolutions, queer future
- Young adult literature and social transformations
- War, trauma
- Visual representations
- Sexual revolution
- Digital revolution
- Revolution in cinema and visual media
Abstract of 250 words (in French or English) should be sent to loic.bourdeau@louisiana.edu by Dec. 15, 2017. This conference aims to include 50% Graduate students and 50% faculty/scholars.
MA students are also encouraged to apply for roundtable discussions of their research interests.
Workshops for Graduate Students (CV, Job Market, Graduate Studies, and then?) will be led by ULL Faculty (free).
Artist speaker: Simon Boulerice (Quebec, Young adult literature/theater/poetry)
Academic speaker: Dr Fabrice Leroy (talk, TBD)
NO REGISTRATION FEE
Type:
Academic
Conference/Camp
Cultural
Event target audience:
Faculty
General public
Students